London Edwardians Hockey Club
---
Welcome to London Eds! 👋We're a friendly and inclusive South London club, competing each season in the London Hockey League.
Our main pitches are Honor Oak Park and Battersea Park.
We have 5 Men's and 5 Ladies' competitive teams as well as Mixed Teams.
Recruiting for 2023/24 season!
---
Details on summer recruitment are coming soon!If you would like to reach out to us about next season, drop us an email at londonedwardians@gmail.comEnsure you're following us on Instagram and Facebook to stay up to date with us!
🏑🏑🏑🏑🏑🏑🏑🏑🏑🏑🏑
---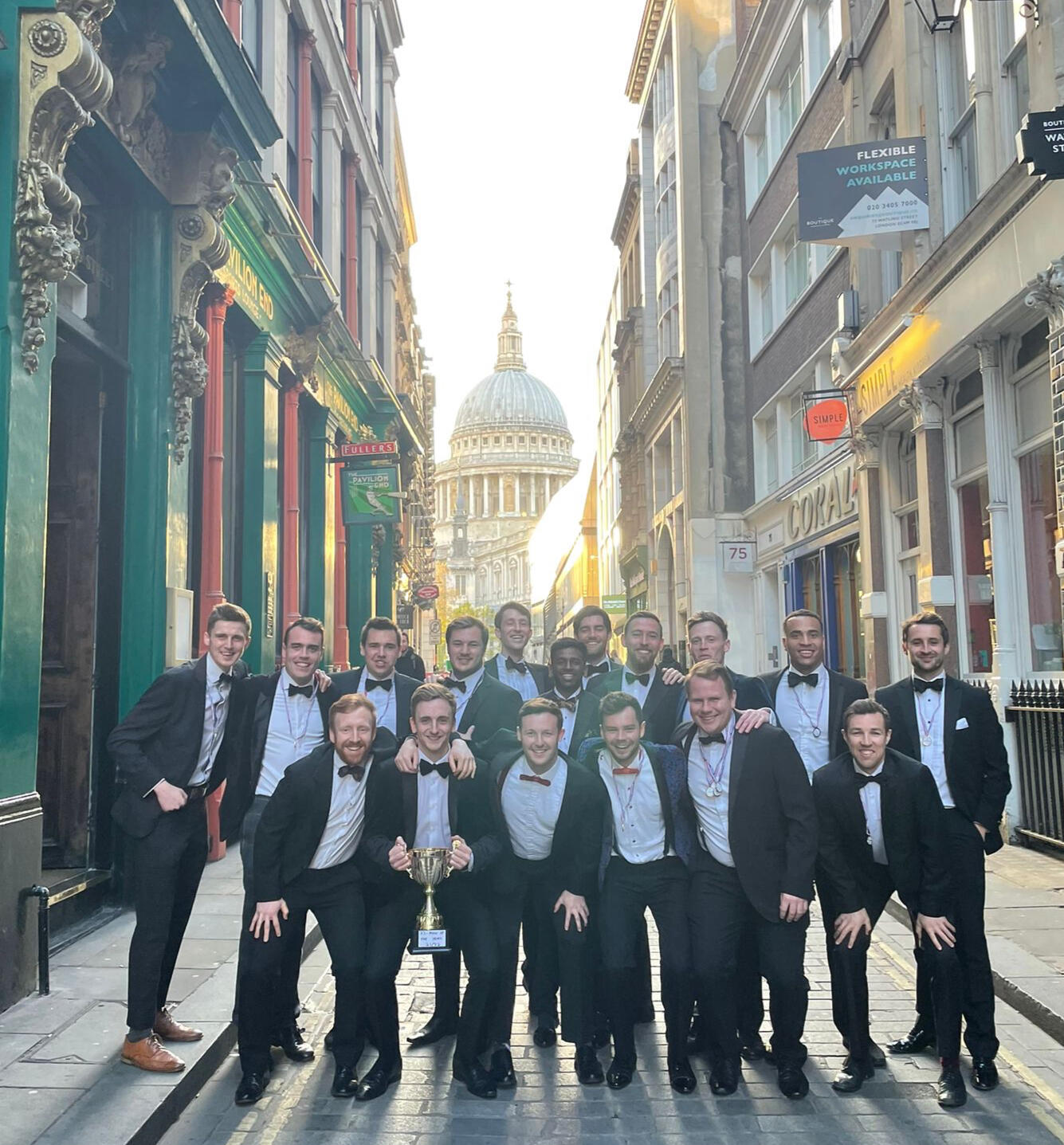 We're always up for a social!
---
We're a friendly community, who love playing hockey and having fun!We believe it's important to have fun both on and off the pitch. With regular socials throughout the year to help create lasting friendships in the Ed's family.
Interested in joining?
If you would like to get in touch with us please email:
londonedwardians@gmail.com
or drop us a message on Instagram
@londonedshc
We will respond as soon as we can.
Our Teams
We have 5 ladies teams, 5 mens teams and 1 Weekly Mixed Social Team and 1 Mixed Cup Team
All Ladies' and Men's teams play under London Hockey League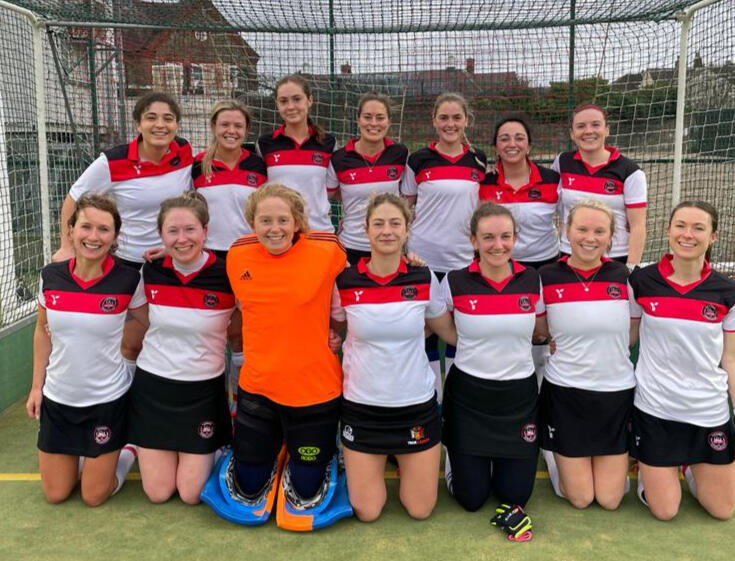 Mens 1st XI
Premier Division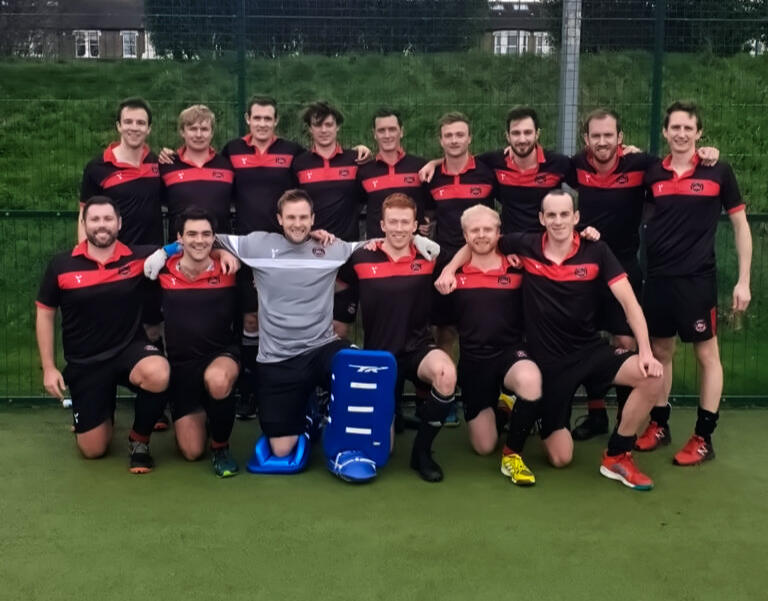 Ladies 2nd XI
Division 2 - South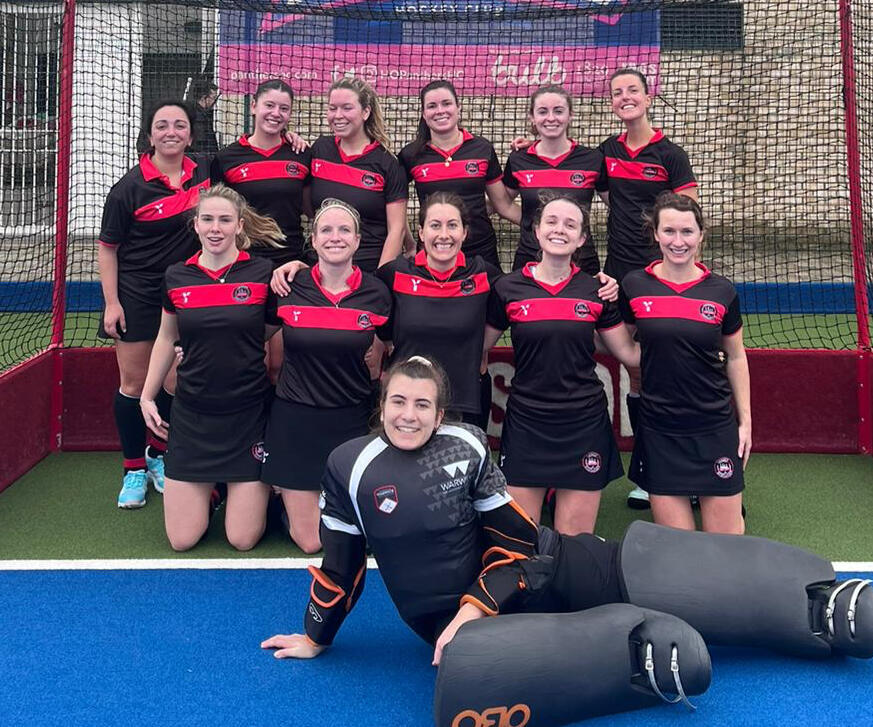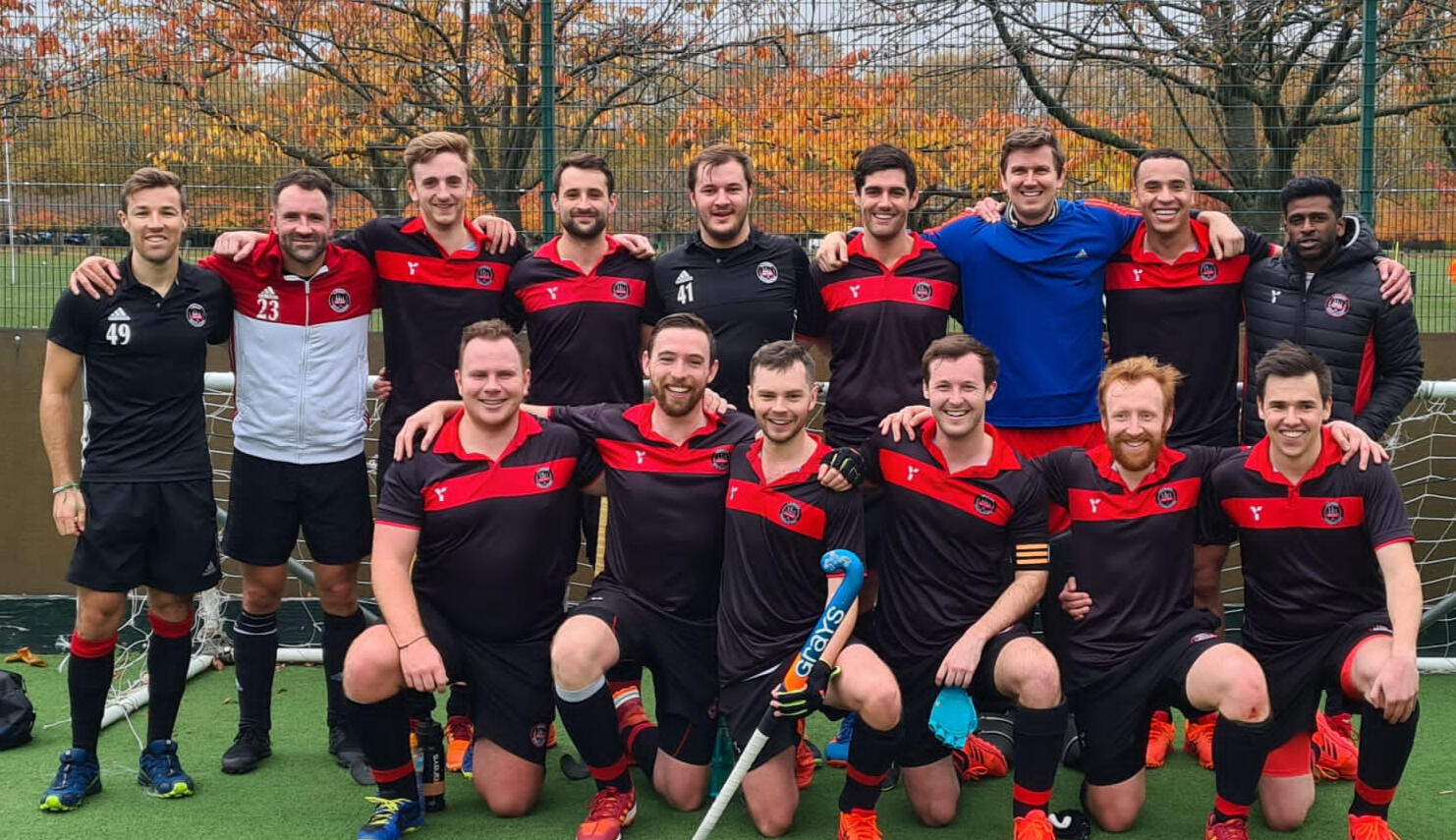 Ladies 3rd XI
Division 4 - East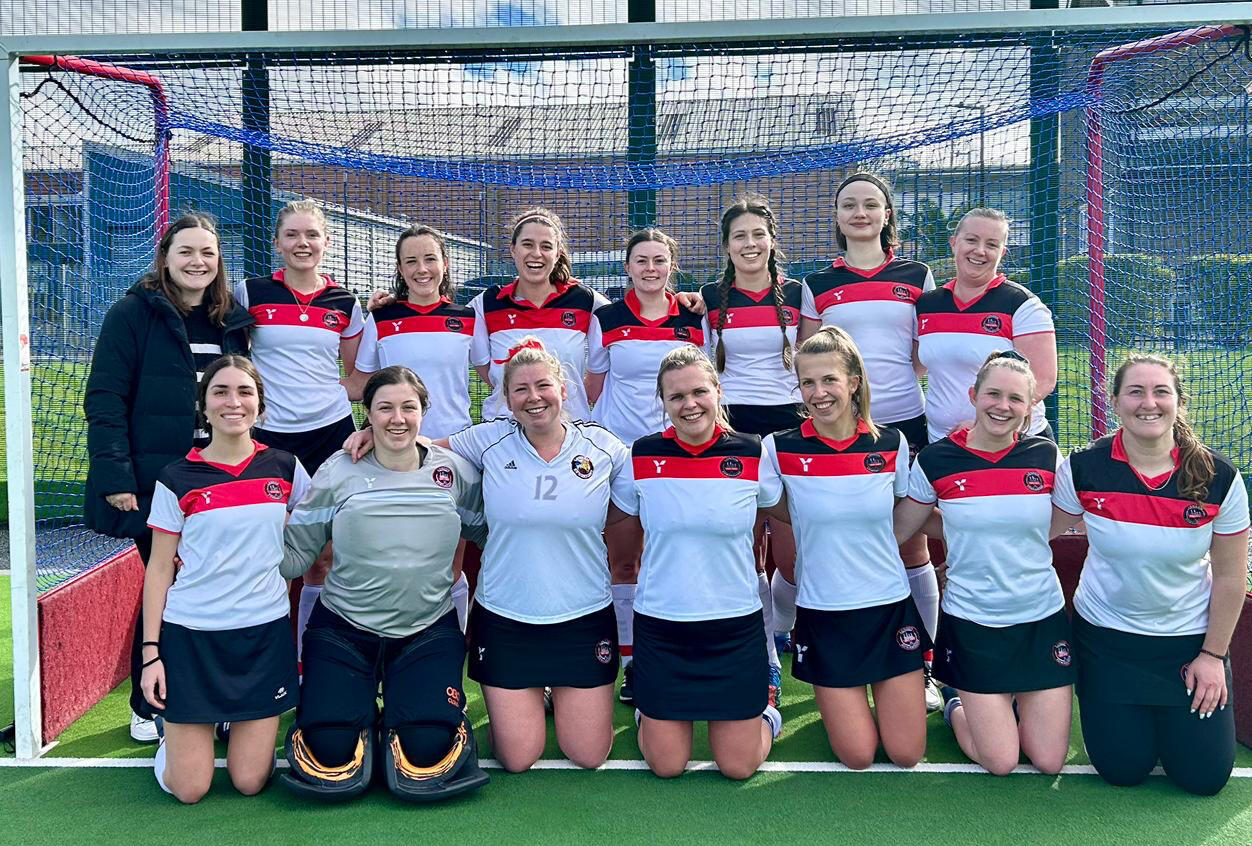 Mens 3rd XI
Division 2 - South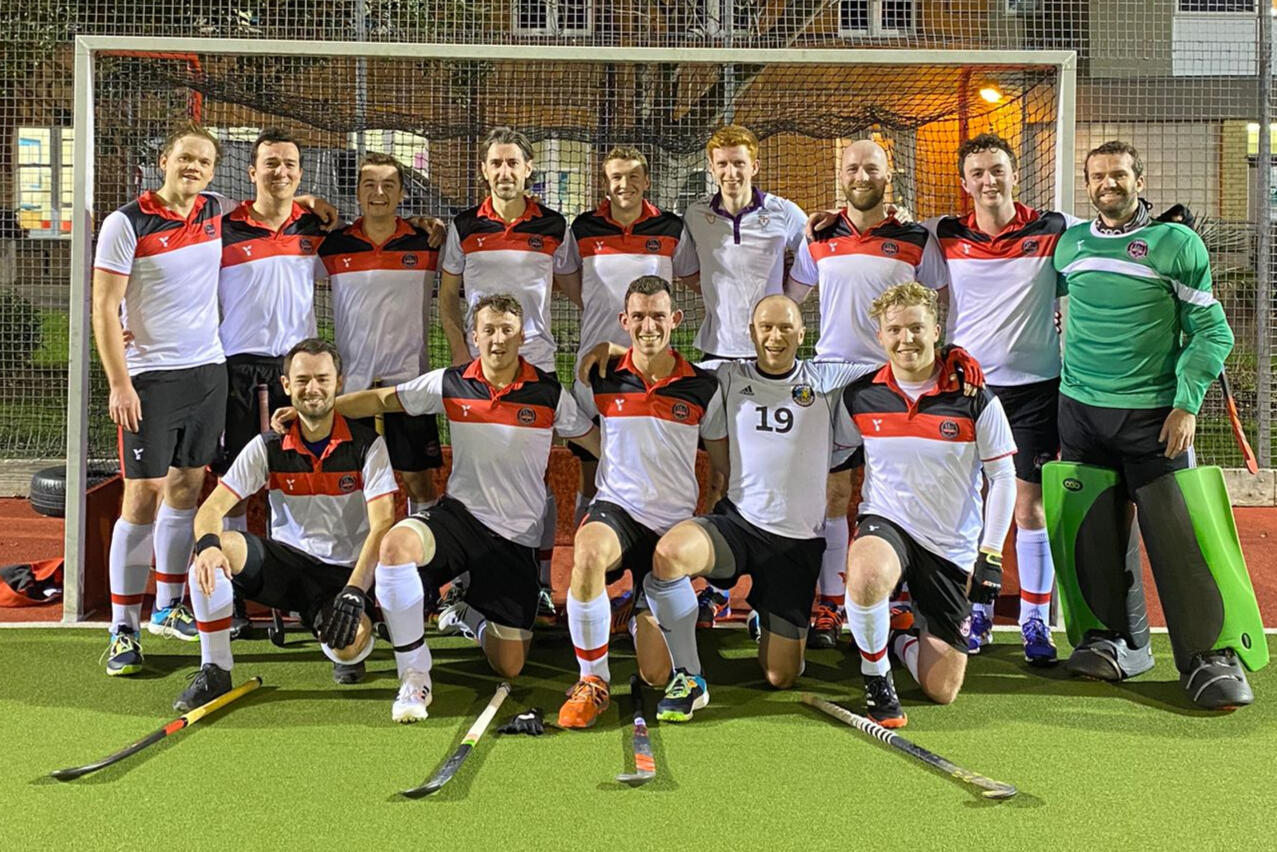 Ladies 4th XI
Division 4 - East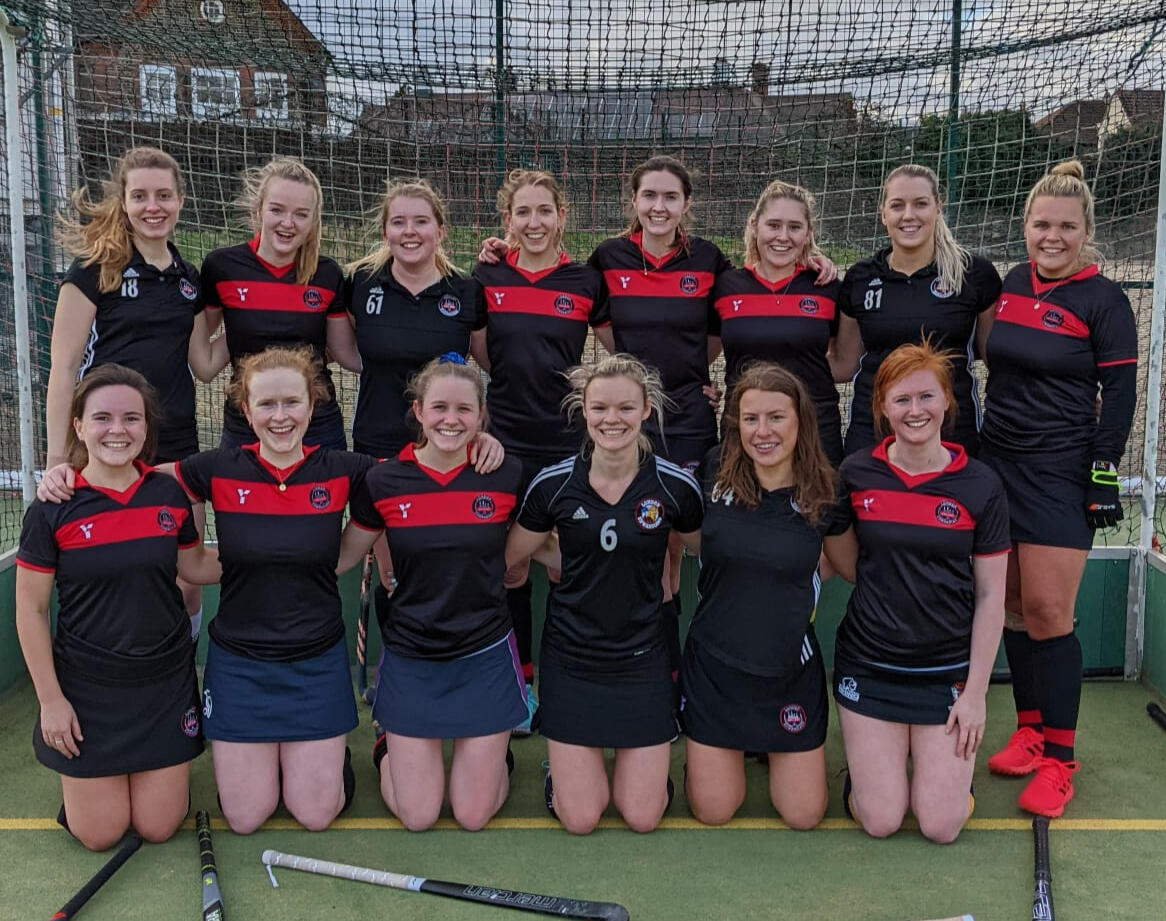 Mens 4th XI
Division 4 - East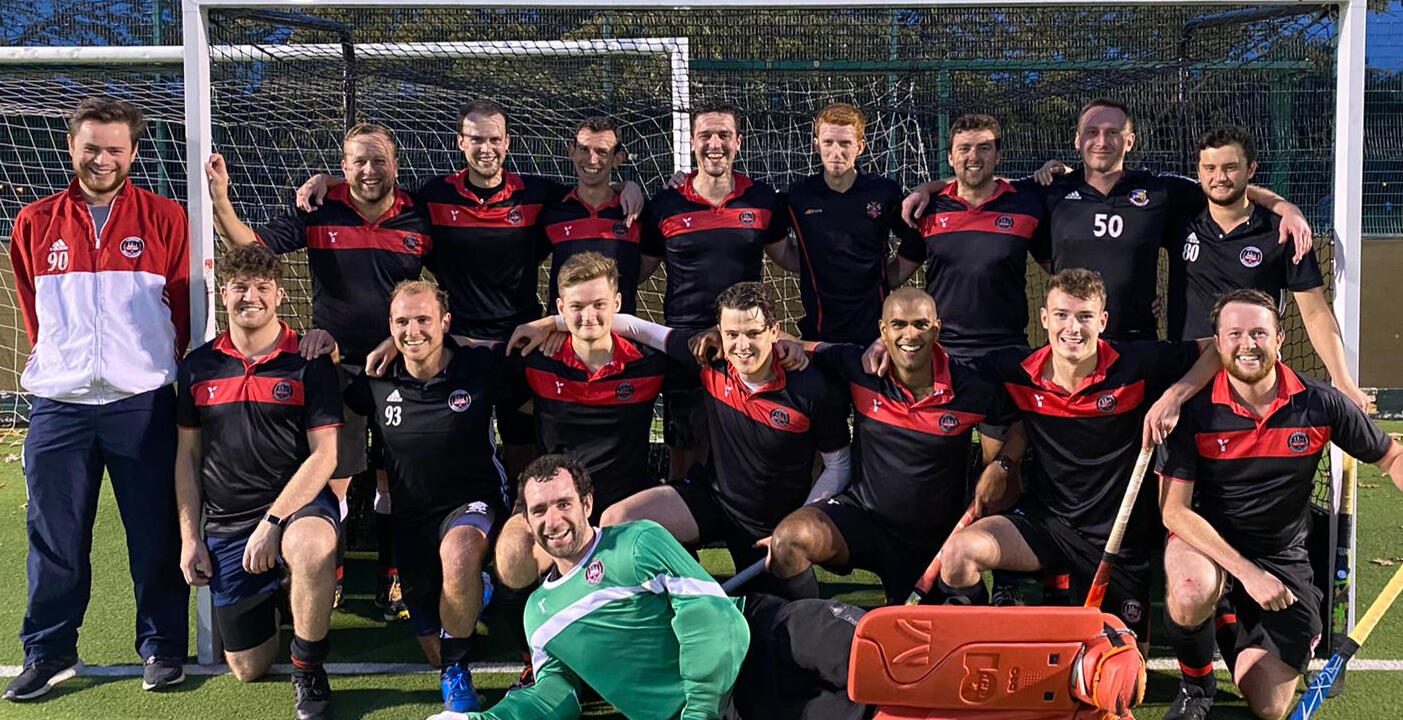 Ladies 5th XI
Division 5 - East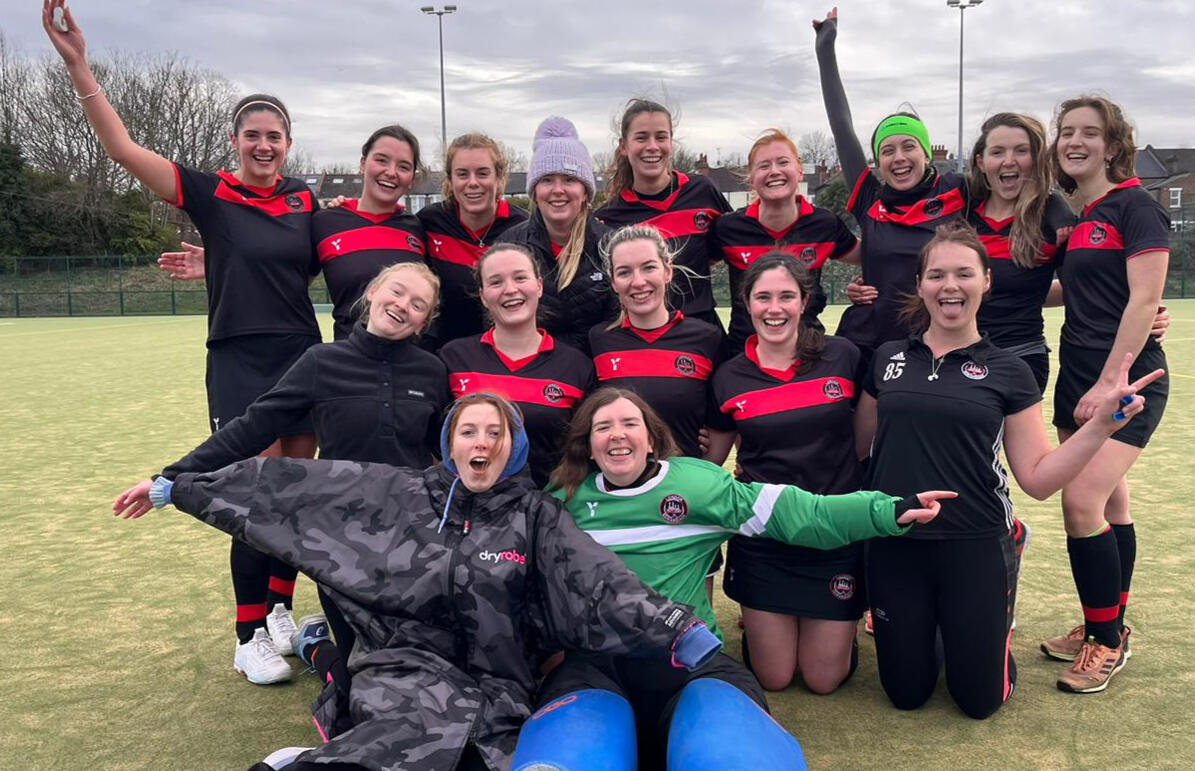 Mens 5th XI
Division 5 - East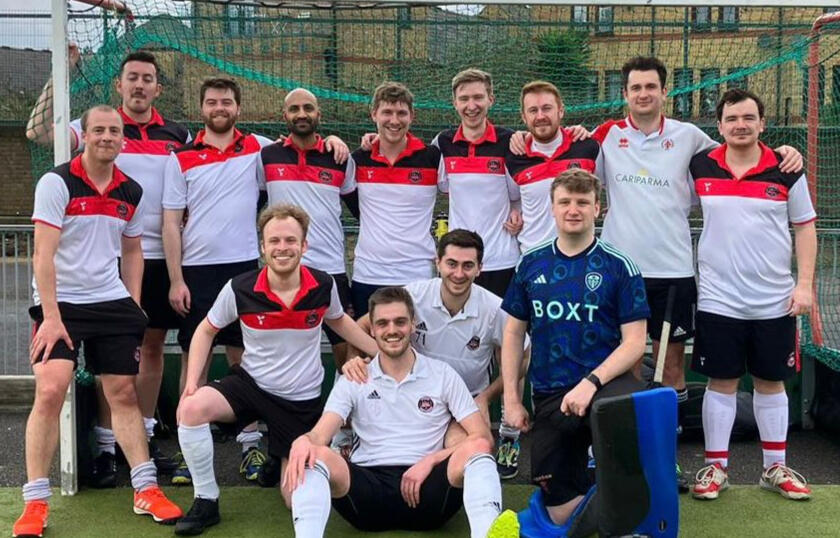 The Eds Mixed Social Teams
We also have our Mixed Social Hockey Teams. Perfect for those who just love having a bit of weekly Sunday fun!
Mixed Social Co-Captains: Tom Marriott and Holly Govey
Mixed Cup Captain: Nicki Best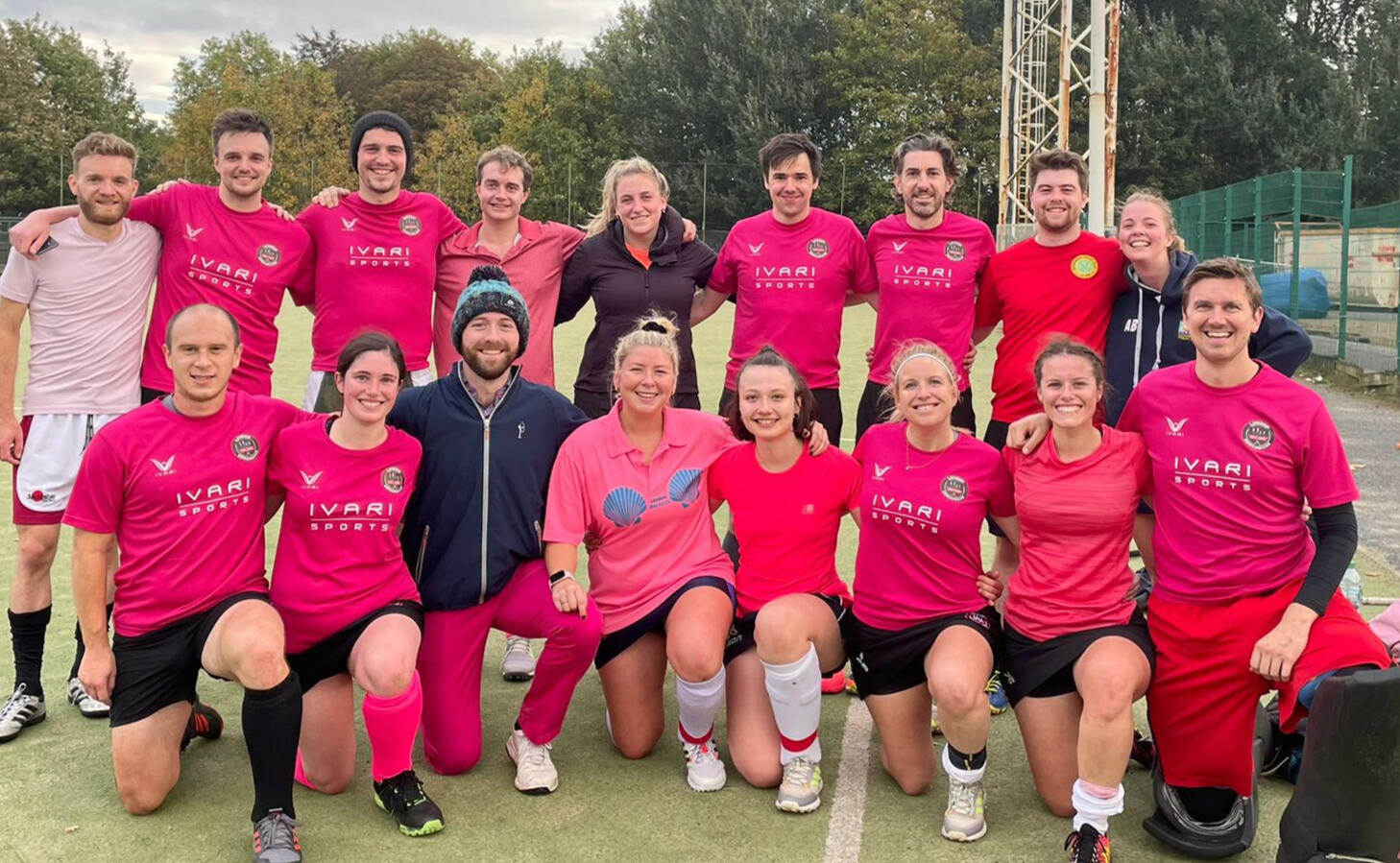 Where we play
Kennington Park
Please note - this has changed to Crystal Palace due to Kennington Park maintenance works
Kit
The London Eds kit is supplied by Young Ones.You can view and buy any of our kit directly from Y1 using the button below.
(Please speak to your captain on the number of your shirt before ordering)
Club Events Schedule
More details for the 2023/24 season coming soon!Our Instagram and Facebook will have all the latest information!
| Date | Time | Event | Location |
| --- | --- | --- | --- |
| - | - | - | - |
About The London Edwardians
Useful documents
Contact us
Club Executive Committee:
Chair - Jess Langman

Secretary - James Husselbee

Ladies' Club Captain - Yas Lewis

Men's Club Captain - Mickey Shah

Club Founder - Ed Simpson

For any Covid-19 Information and Enquiries from Opposition Teams - londonedscovid@gmail.com
Support the club:
This form uses reCAPTCHA to filter out bot traffic.
Thank you for getting in touch!
---
Our Club Captains will respond to your interest as soon as possible!We look forward to welcoming you into the Ed's family!Don't forget to check out our social media!
---
Edwardians Club History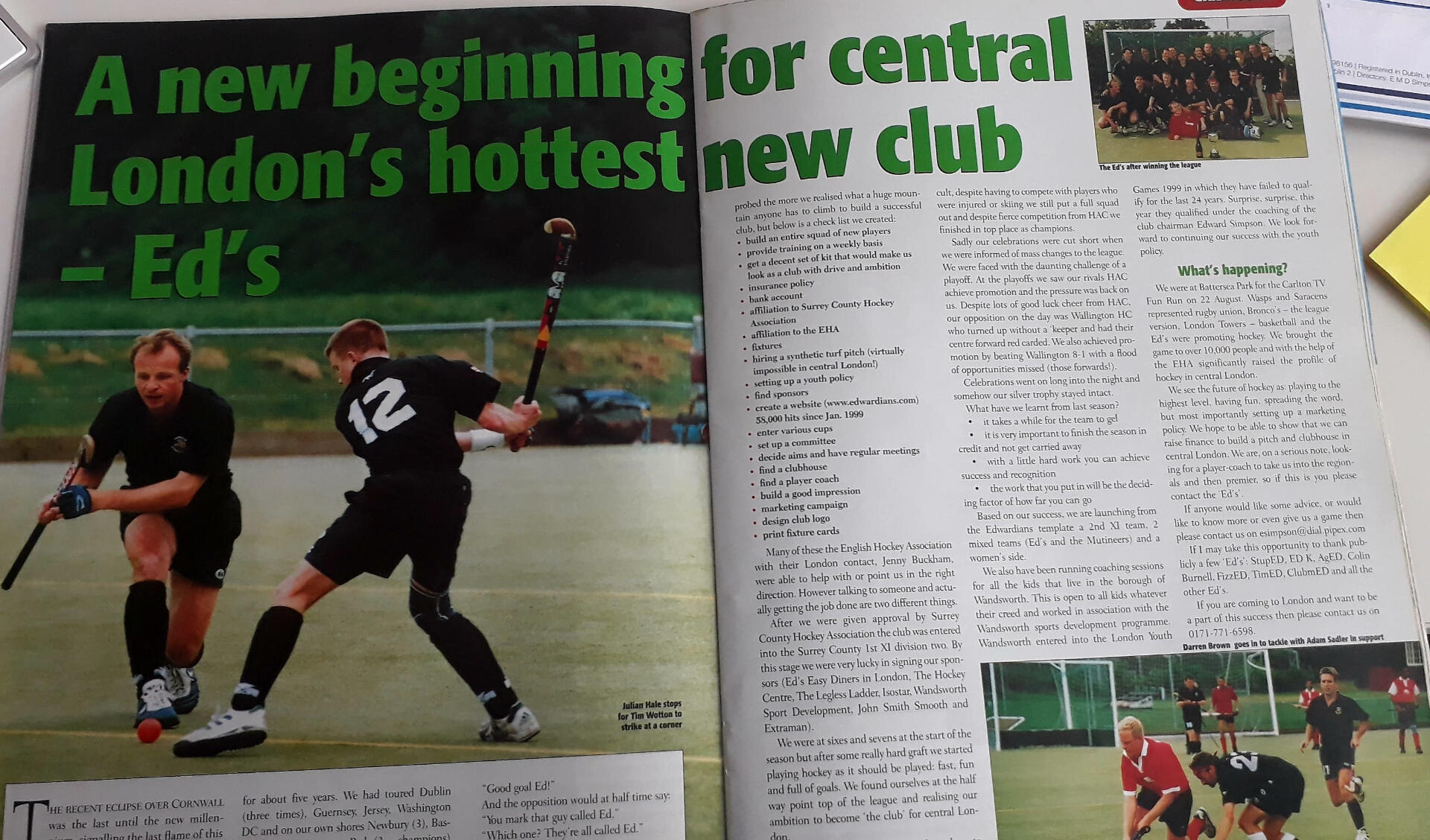 __The Ed's were officially formed in 1997 by Edward Simpson, who at the time was playing with a Wandsworth Club. __
Here is his story of how Edwardians came to be:'I had a good look at the hockey 'product' and with the digital era slowly becoming a way of life, the old model of play/old clubhouse really didn't enable Clubs to offer better hockey, social life, more often than not set in their old traditional ways.
When I approached Chris Burty he couldn't have been more helpful. The official naming and brand of the London Edwardians HC was born. We were entered into Surrey County 1st XI Div 2 in 1998.
I spent some time and effort to ensure that our brand, our way of playing, hockey, the social life post match, our sponsors, our way of being seen by those we would meet on the circuit, would build not just a positive first impression, but THE Hockey Club in Central London both on and off the pitch. To date I believe that London Edwardians is exactly that, THE Hockey Club for Central London.
In 1997 we toured to Washington DC in the JFK Memorial Tournament, with players from Spencer, Wayfarers, and Ed's. This tournament was for national teams B squads, and THE Ed's. We won the plate against India A 1-0!
Ed's in their first league year - 1998 - having successfully recruited a squad of 22 players and keepers, went onto to win Surrey County 1st XI div 2 in their first year, we scored over 120+ goals, running riot against the likes of Bank of England. We really had a great squad, Spencer McDonald I think was player of the season!
The Ed's were quickly being recognised as not only a great hockey side, but one that looked beyond hockey with an amazing social life, it was not unheard of for various members to still be in shin pads, Ed's shorts, socks, and top, having had a skinful at the then infamous Legless Ladder (legless being the right word) to go onto The Grand, only to be refused entry whilst protesting that they were in a uniform and should be allowed in, with nowhere else to go but the Wessex House.
Everyone had an 'Ed' nickname, so for example 'Nurse' might become 'NurseEd', Spence was 'FluffEd', others were MattEd, Ed K, Ed S (we got off lightly!),Von BlottEd, TimEd, HailEd, StupEd, and so forth, maybe time to resurrect an Ed handle for all Ed's today?!
We put lot of effort into the Ed's brand, sponsors (Ed's Easy Diner, John Smiths Smooth, Lucozade, Hockey Centre, The Legless Ladder, etc perfect sponsors!), the teams, where we played, how we played, website, that combined made for a lasting experience, this as you can imagine was way different to what was being offered by other clubs at the time, like one which was founded in 1905 in Wandsworth…which we broke loose from to set up the Ed's.
By season three we had 2 men's teams, a ladies' 1st XI – Fiona Morris was inspirational in helping me expand the club, and by season 5 we had 3 men's teams, and four ladies teams… With the club growing fast, we were competing in both league and cup, one of which saw us take on March Town in the semi's of the H.A Trophy – our bus broke down in Stevenage, we had to get taxi's for the rest of the journey, we pulled off the impossible, celebrations followed with every man of us drinking their club house dry.
The Ed's continue to go from strength to strength, facing new challenges, making new and renewing old contacts, always social, playing great hockey, and I genuinely believe that what we have all achieved is a belief in each other as players, as a team, as a club, and to field hockey in general.
The brand 'Ed's' is known throughout the Hockey world – from Hong Kong to Dublin, from Holland to Washington DC our brand is growing. From encouraging your fellow 'Ed's' on the side-lines, to continuing the drive and impetus already achieved, to future growth and brand development, I firmly believe the fun and the work put in by past, current and future Ed's maintains Central London' LEADING Club.
It was a great day for Ed's when the Men's 1st XI achieved National League status and hopefully the ladies will progress further up the leagues; to have 5 Ed's mens and 6 ladies Ed's, several colts Ed's, and their own Clubhouse/Pitch!?
My thanks to past Ed's and current Ed's.
Do send me your experience with The Ed's, or send me an email mailto:edward@simpson.ie
London Edwardians 25th Anniversary Dinner
We were thrilled that London Edwardians celebrated the 25th Anniversary of the club in April 2023!The night included both current and alumni members celebreating not just the 22/23 season but the whole history of the club.We were joined by our founder, Ed Simpson as well as alumni acorss the years.
Hosted at the De Vere Connaught Rooms in Holborn, a brilliant evening reminicising, celebrating and raising a glass to how te club has grown.A huge thank you to Matthew Watson, the Executive Committee and the Anniversary Committee for all their help organising a truly wonderful evening. And thank you to the De Vere Connaught Rooms for being excellent hosts!Here's to the next 25 years!#londoneds25years